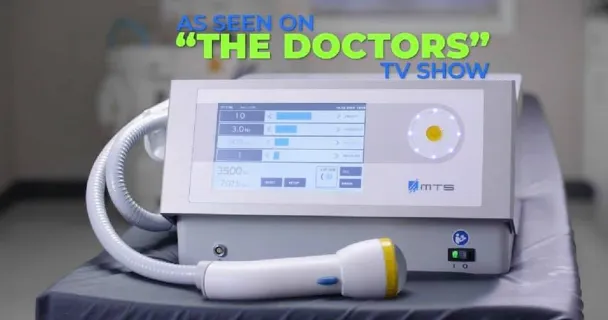 Do you have chronic pain and been told by doctors that you need pain pills, injections, or surgery? You have just stumbled across the best kept secret in health care! SoftWave therapy is being used by some of the most elite athletes in the world. Currently it is being used in the NBA, NFL, MLB, PGA, and at Mayo Clinic.
Click here for testimonials from professional athletes using the technology: Soft Wave Testimonials.
It has been featured on the show The Doctors as can be seen here:

HOW DOES SOFTWAVE THERAPY WORK?
TRT Orthogold SoftWave Therapy is an exciting, state of the art, highly effective, noninvasive breakthrough treatment for degenerative and chronic pain conditions. This treatment is clinically proven, nationally recognized, and has been shown to have up to a 91% success rate in clinical studies. SoftWave therapy uses acoustic waves to stimulate your body's natural processes for healing. The treatment is done same day and requires no down time. SoftWave therapy improves the healing process by:
decreasing pain and inflammation by stopping the inflammatory process for 15-20 hours after the first treatment
Increases circulation within hours of the first treatment and up to 300% within 12 weeks
Increase in range of motion and vasodilation by increasing blood flow necessary for healing process
Creates tensegrity = stabilizes the supporting ligaments and connective tissue
Within 45 minutes of the first treatment there is activation of your own natural stem cell and helper cells from a dormant state
Within 6-8 weeks you have maximum activation of your stem cell production
Within 10-12 weeks to get neovascularization (new small, medium, and large blood vessel formation)
The OrthoGold also has a patent for peripheral nerve regeneration that occurs within 10-12 weeks

CONDITIONS THAT CAN BE TREATED BY SOFTWAVE AT DISCOVER HEALTH CHIROPRACTIC:
Knee Pain
Ankle Pain
Hip Pain
Elbow, wrist, and hand pain
Back and Neck Pain
Plantar Fasciitis
Arthritis
Sport Injuries
Tennis/Golfers Elbow
Muscle Pain
This technology is not new. It has been in the marketplace for over 14 years in Europe and more recently FDA cleared in the US. The technology has a class one FDA clearance for decreasing pain and increasing circulation. The FDA has labeled the Orthogold device as NSR (Non-Significant Risk Factor),
which means there are little to no side effects.

HOW LONG DOES IT TAKE FOR THE TREATMENT?
A treatment generally takes less than 10 minutes. Most of the cases we see require between 6 to 8 treatments. Our recommended protocol is to see a patient 2 times a week the first week then about once a week. Improvement from the down regulation of the inflammatory response is nearly immediate and is what gives patients the wow factor after the first treatment. This improvement typically lasts for 15-20 hours or longer. The real benefit is in the long-term response. The SoftWave therapy reduces adhesions and vascularizes the area. It stimulates and activates your own natural stem cells to flood the area and fire up your healing response.
WHAT OUR PATIENTS HAVE TO SAY:
"Both of my knees hurt when I would sit down and standing up. Now they don't bother me at all sitting down or standing up." -Larry C.
"What brought me to Softwave first was the loss of full use to my left arm - nerve damage. I could not raise my arm, but waist level. My shoulders were drooping before, especially on the left side. Within 24 hours after the first treatment, my shoulders were straight and I could lift my left arm up to just under shoulder height. I want others to know that SoftWave is AMAZING! I have been like this for at least five years, now I have reparation beginning. - Dave P.
"My lower back was injured in 2012 from 14 foot ladder fall. Nothing had helped. Within 24 hours from treatment one, pain was gone. I could get in and our of my car without pain. I could stand without pain!" - Roseanna P.
"I can attest to this therapy!! I tore my right knee meniscus a couple weeks ago. I was in so much pain and unable to walk. I was using crutches because any weight on the knee hurt. I went to Discover Health and had one session and immediately felt so much better. I am currently at Denver airport where I walked at least a mile between concourses. Without any pain!!! I never would have believed it because I had surgery previously on my left knee when I tore that meniscus and ham string, and still it gives me a bit of trouble. I knew I did not want to undergo another surgery so I tried this. It was the best decision!!" - Jeanne W.
"What first brought me to SoftWave was an issue with both knees including a Baker's Cyst and arthritis. Since starting my SoftWave treatment plan, the Baker's Cyst is completely gone. This is amazing since an orthopedic surgeon told me they could remove it but it would probably return. My knee pressure is almost 100% gone and my mobility is 75%-80% improved. What do you have to lose? Surgery vs. non-invasive option?" - Kevin R.
"What first brought me to SoftWave was my sciatica! I have suffered with sciatica since my 20's, well I am now almost 70! That's 50 years of pain and
I tried everything including spinal steroid injections, nothing helped. So when I saw this ad for SoftWave, I wanted to try it. Since starting SoftWave, I have no pain! This has resolved my 50 years of pain and I am thrilled. Discover Health Chiropractic is wonderful, the staff is always kind, I rarely have to wait and treatments are easy, convenient and only take about 15 minutes - win, win, win. The big takeaway, my pain is GONE!" -
Pat H.

"Since starting SoftWave, my shoulder pain has diminished, I can reach to wash windows, sleeping on my once painful shoulder, throwing the ball for
our dog. Treatment takes just minutes, is virtually painless, and healing beings immediately. Discover Health Chiropractic is a friendly, accommodating staff." - Tara H.
"I was having acute knee pain, wanted to try a non-invasive method of treatment. Since starting SoftWave, I have had amazing results! Pain decrease immediately! My range of motion increased and I've only taken one Aleve since starting treatment. The staff is great and you just have to tryit to believe it! It has decreased my inflammation and pain and increased my range of motion and activity." - Michelle K.